Cultural Tourism Ireland prides itself on being a provider of community based responsible tourism activities.
Our archaeological research and training excavation at the Blackfriary in Trim, County Meath, Ireland, in the heart of the historic Boyne River Valley, is a pilot for a concept called CHAT (Cultural Heritage Amenity Towns).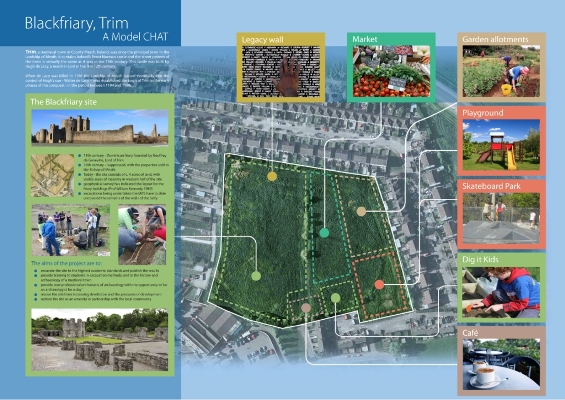 The concept, envisaged by the company directors, and one of the 25 finalists of over 9000 entries in the 2010 Your Country Your Call competition, aims to use Ireland's greatest assets, its culture and its people, to build cultural heritage and amenity projects.
CHAT aims to provide an innovative and sustainable tourism and education based economy by engaging local communities with their heritage. The CHAT concept aims to encourage the local community to connect with the rich cultural heritage of the town, thereby ensuring its preservation.  Our work has been recognised in Ireland and internationally with numerous awards and accolades.
The Blackfriary (or Black Friary) site is located in the heart of the medieval town, in a green field area of approximately 4 acres surrounded by houses.  The Blackfriary is the site of a buried 13th century Dominican Friary, which is being excavated and preserved by the Irish Archaeology Field School as a research and teaching excavation.  The excavations at the site are well known and welcomed within the town. Engagement in the project is being achieved through encouraging the local community to visit and even participate in excavations, and by undertaking a program of outreach events and public consultation.  Transforming the site as a model for disability access is also a priority. By engaging the local community we are tapping into the enormous potential for the development of the remainder of the field as an amenity for the town and as a tourist attraction. To achieve this, a Blackfriary community committee has been established comprising representatives from local groups. This committee will take the lead in the planning and implementing of the various phases of site development, including the raising of funds required to achieve this read more…