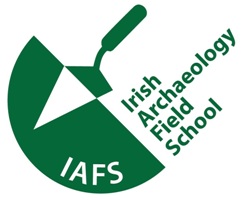 The Irish Archaeology Field School (IAFS) is Cultural Tourism Ireland's sister company.  The school is Ireland's leading provider of university accredited, site-based archaeological research and training. The ethos of the school is to provide an opportunity for students and enthusiasts of archaeology and anthropology to experience at first hand the excitement of archaeological excavation in a teaching environment. Excavations are undertaken within an established research framework led by a team of highly qualified and experienced archaeologists.
Cultural Tourism Ireland's relationship with the field school allows our clients unparalleled access to live academic research, including excavation and survey of key archaeological sites in Ireland.
If you are a student or are seeking university accredited training and / or experience, the Irish Archaeology Field School is for you!
What
We carry out archaeological research excavation, with a strong teaching component, to allow students and visitors a first hand and unique experience of discovering the past. Students of the school will undertake all aspects of an archaeological excavation and discovery at the site and contribute to the community project.
Where
The archaeology project is at the Black Friary, the site of a 13th century, late medieval, Dominican Friary in the town of Trim, Co. Meath. Trim is in the Boyne River valley; the valley is home to some of the most significant archaeological and cultural heritage sites in Ireland and Europe, including Brú na Boínne, the UNESCO World Heritage Site. See Discover Ireland for more information.
Who
The project is a community based project, with a number of stakeholders and supporters, including the local authority, state bodies, and expert groups. The field school is closely tied to its CRM sister company, CRDS Ltd. The school is run by company directors Dr. Stephen Mandal MIAI EurGeol PGeo and Finola O'Carroll MA MIAI MRPA. The teaching staff includes Finola O'Carroll, Dr. Rachel Scott MAIA and Dr Denis Shine. The excavation directors are supported by a number of highly trained and enthusiastic supervisors and a team of specialists covering everything from human and animal osteoarchaeology, to geology and architectural heritage.
When
Archaeological excavation is undertaken during summer months. In 2013, Season 4 excavations will be undertaken from May 20th to August 23rd.
Why
The site has long been neglected, due in part to its status as a National Monument in Irish heritage legislation, and to the lack of resources available to the local authority to develop the site as a heritage resource. The community archaeology project is challenged with investigating the archaeological remains of the site, now mostly below ground, and working with the local community to create a space where community and visitors alike can explore heritage and use the site in a mutually beneficial and sustainable way.